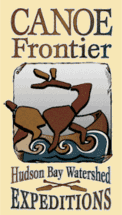 If you are interested in a Guided Trip in this beautiful area check out: www.paddlebender.com
Otherwise...
It is with mixed feelings that we wrap up Canoe Frontier operations at the end of 2007. We have been so fortunate to be able to meet so many wonderful people and to experience some incredible adventures but the time has come for us to focus all our efforts on our rapidly expanding air service.
When we moved to Pickle Lake in 1997 we thought we would be outfitters in the far north of Ontario . In order to be successful outfitters, we needed to operate float planes to access the thousands of square miles of pristine wilderness. So that is what we set out to do. With two piston DeHavilland Beavers we began flying canoeists and fishermen to the remote lakes across the north. Early in 1998 we realized that two Beavers were not going to meet the demand, so we added a DeHavilland Turbo Otter to the fleet. We both still remember staring at the ceiling late into the night that first month worrying about how we were going to make the loan payments for that aircraft. While it was not easy, to be sure (for any start up company) we did grow and expand and enjoyed success in both the outfitting business and the air service.
By 2000 we were going strong! We had added an amphibious Cessna Caravan to the fleet (along with other smaller wheeled aircraft). A hangar soon followed and so did the Grand Caravan. We had graduated to the category of "year round charter air service" handling both freight and people in addition to our already established clientele, the seasonal adventure travellers.
The outfitting business saw many firsts - with kayak trips to Hudson Bay and Polar Bear Park, women's trips on Lake Nipigon, float trips on the Sutton and Washagami to name a few. We generated dozens of front page articles and media attention in major magazines and newspapers across North America and Europe . We catered to guests from all over the world, many who have become life long friends. It truly was a trip of a lifetime for us - to take so many people on so many thrilling adventures.
Last summer we added another "base" to our operation. We now operate two Turbo Otters in Baker Lake, Nunavut in addition to our base in Pickle Lake where we have added a Pilatus PC-12 (with a second to follow) to our fleet of Caravans. Our air service truly has "taken off", so to speak! We also opened Lakeview Manor Bed & Breakfast in Pickle Lake in April. With all this growth we just do not have the time to devote to Canoe Frontier in order to maintain the high level of service our guests have come to expect.
So as 2007 comes to an end we would like to thank all our guests and friends for all their loyalty and support for the past ten years. We will miss sending you out on your adventure and we will especially miss picking you up and hearing of your tales of adventure. We would be happy to provide you with a flying quote for the wheeled aircraft for the 2008 season if that fits into your travel plans, so please give dispatch a call at 1-800-285-8618 or email at dispatch@picklelake.com. As for this website, we plan to leave generic information about the rivers on our website but over the next few months you'll notice a downsizing of the site to reflect the services offered.
We do however, hope to "pass the torch" to a younger, energetic outfitter who will be dedicated to the customer, safety and excellence. If this does happen, we'll get an email out to everyone with information about the new direction for the company.
Thanks again so much for the past ten years and best wishes for happy and healthy New Year and beyond!
Sincerely,
Bernie and Lynn Cox